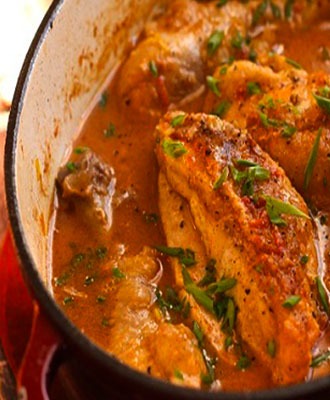 Ingradient
3 tablespoons oil
2 pounds chicken thighs
2 teaspoons kosher salt
1 teaspoon freshly ground black pepper
1 shallot, minced
1 tablespoon Dijon mustard
3 tablespoons cider vinegar
2 tablespoons herbes de Provence*
1 cup apple cider
Direction
Heat oil in a large, deep-sided skillet over medium-high heat. Season both sides of the chicken with the salt and pepper, and place into the skillet skin-side down.
Cook for 10 minutes until nicely browned.
Turn the chicken over and cook for 5 minutes on the other side. Remove the chicken to a platter.
Pour off most of the fat, then sauté the shallot for 1 minute until translucent.
Stir in the mustard, vinegar, and herbes de Provence; combine well.Stir in the cider, and return the chicken to the skillet.
Cover the chicken and bring it to a boil, then lower the heat to simmer for 45 minutes. Place the chicken on a serving platter and boil the sauce down to reduce it until it has thickened and become caramel-colored.