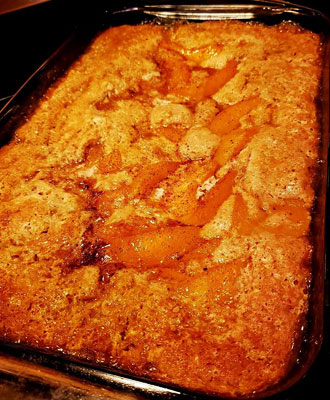 1 store-bought pie crust (2, 9″ circles of dough) or you can make your own
3 lbs fresh peaches – peeled, pitted and sliced (this probably means 3 lbs BEFORE peeling & pitting them)
1/4 cup lemon juice
1/4 cup orange juice
1/2 cup butter
1 c. white sugar
1 c. brown sugar
1/2 tsp ground nutmeg
1 tsp ground cinnamon
1 tsp cornstarch
2 tsp cinnamon
1 tablespoon white sugar
1 tablespoon butter, melted
Directions
Preheat oven to 350 degrees F. Roll out half of dough to 1/8 inch thickness. Place in a 9×13 inch baking dish, covering bottom and halfway up sides. Prick with fork. Bake for 20 minutes, or until lightly browned.
In a large saucepan, mix the peaches, lemon juice, and orange juice. Add 1/2 cup butter, and cook over medium-low heat until butter is melted. In a mixing bowl, stir together 2 cups sugar, nutmeg, cinnamon, and cornstarch; mix into peach mixture. Remove from heat, add vanilla, then pour into baked crust.
Roll remaining dough to a thickness of 1/4 inch. Cut into half-inch-wide strips. Weave strips into a lattice over peaches (I just laid them on top in a criss crossed pattern). Brush dough with melted butter, then sprinkle generously with sugar.
Bake in preheated oven for 35 to 40 minutes, or until top crust is golden brown and bars are nice and bubby. Serve hot with ice cream!