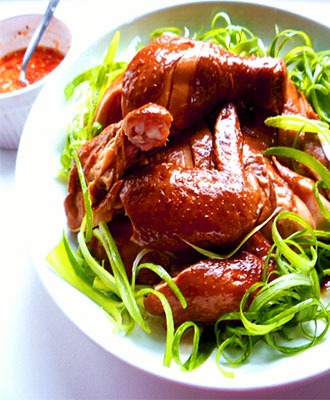 serve 4 to 6 as part of a Chinese meal
you'll need;
1 free range chicken* (1.2 to 1.5 kg bird)
1 spring onion julienne
*only good quality chicken should be used for this dish.
for the aromatic soy poaching liquor;
1 cup of light soy
1/2 cup of dark soy
6 cups of water
1/2 cup of rock sugar
1 cup of chinese cooking wine
5 cm knob of ginger, sliced
3 garlic cloves
1 spring onion (white part only)
1 cassia bark or cinnamon stick
2 star anise
1 tsp of Sichuan peppercorns
Direction
1- Marinate chicken with soy and aromatics for 20 minutes.
2- First prepare the poaching liquor by simmering everything in a pot for 30 minutes.
3- Place chicken breast side down and bring it back to a simmer, cover and simmer on the lowest heat for 30 minutes. Turn the chicken over half way through the cooking. Strain and keep the cooking liquor for other uses. If time is on your side; place the chicken in, simmer for 10 minutes then turn off the heat, cover and let the chicken steep til the liquor has cooled down. The result is a chicken that is coloured more evenly all over.
4- Remove chicken and brush some sesame oil over the bird. Cover and let it rest for at least 15 minute before cutting.
5- Cut chicken Chinese style and arrange neatly in a shallow bowl or platter. Ladle some of the hot strained liquor over.
6- Place julienne spring onions on top of the chicken and pour 1/3 cup hot cooking oil.