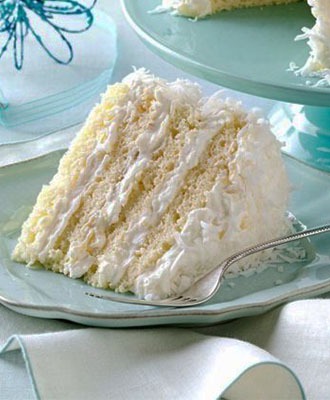 Coconut Pineapple Cream Cake
12-16 servings
2 cups granulated sugar
1 cup unsalted butter, softened -divided
1/2 cup vegetable oil
5 large eggs, separated
2 cups bleached all-purpose flour
1 teaspoon baking soda
1/2 cup ground pecans
1 tablespoon lemon juice
1 can (20 ounces) crushed pineapple with juice
2 cups sweetened flaked coconut -divided Frosting
1 (8-ounce) package cream cheese, softened
About 6 cups powdered sugar, sifted
1/2 teaspoon vanilla extract
1/2 teaspoon almond extract
2 tablespoons milk
1 cup pecans, finely chopped

Preheat the oven to 350°F (175°C).
Lightly grease and flour three 8-inch round cake pans.
In a large mixing bowl using an electric mixer, cream the sugar with 1/2 cup of the butter. With the mixer running, add the oil in a steady stream. Add the egg yolks, one at a time, beating well after each addition. Stir in the lemon juice and the crushed pineapple with juice.

Sift the flour and baking soda together into a medium-size mixing bowl. Add the ground pecans and mix.
Slowly add the flour mixture to the sugar mixture mixing well. Fold in 1 cup of the coconut.
In another large mixing bowl, beat the egg whites until stiff peaks form.
Gently fold whites into the cake batter. Pour the batter evenly into the prepared cake pans. Bake for 30 to 45 minutes or until a toothpick inserted in the center comes back clean. Remove from the oven and cool for 10 minutes on wire racks. Remove cakes from pans and cool completely.
In a large bowl, cream remaining butter with the cream cheese. Add the powdered sugar and mix well. Add the extracts, milk, and mix to a spreading consistency. Add a few more drops of milk if needed. Fold in the pecans. Spread a thin layer of frosting on the tops of two layers, (rounded side down). Stack layers on serving plate and top with last layer, (rounded side up). Ice the top and sides with remaining frosting. Sprinkle remaining coconut on top of the cake