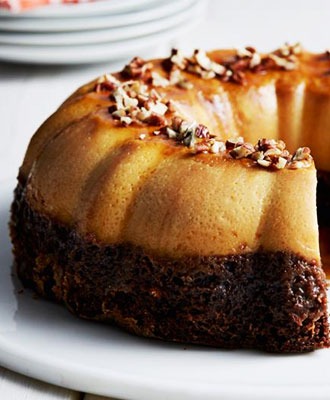 Ingredients for cake part:
-1 prepared chocolate cake recipe (I used a devils chocolate food cake mix)
Ingredients for flan:
-1 can condensed milk
-1 can evaporated milk
-5 eggs
-1 teaspoon vanilla extract
-1 cup cream cheese (optional I do add it because I am SINFUL ha ha)
Ingredients for caramel:
-1 cup sugar
-1/4 cup water
Directions:
1– Preheat oven to 350 degrees Fahrenheit (180 degrees Celsius), get a shallow dish that is oven proof. Any baking dish, cake pan or mold that can fit the pan you are going to use to make the "Chocoflan" and fill it with water about 1/2- 1 inch and put in oven. This is what we call the "water bath" you'll see what I mean later.
2- Prepare your caramel, get a sauce pan, throw in your sugar and water and bring to a rolling bubble on high heat, stir occasionally whisking with a chopstick (yes this is how I do it and it always works the water acts as a stabilizer and it wont let it burn or clump and it will still thicken and turn into a caramel) when your caramel is done, add it carefully to the cake pans or mold your gonna use and swoosh it around to coat everything. PLEASE BE CAREFUL IT'S HOT!!!! It will harden quickly as well so work fast. Set aside the mold/ pan
3 Follow the directions on a Store bought box of chocolate cake mix, or make your own from scratch. Add the prepared batter to the mold/ pan that has caramel coating (in my case I had two molds I use and divided the batter evenly)
4 Prepare the flan batter, in a large blender or bowl with a whisk or blender combine the condensed milk, evaporated milk, eggs, vanilla and the optional cream cheese to a smooth mixture. Pour them evenly over the chocolate cake batter. DO NOT WORRY IF THEY MIX! They will separate during baking.
5 Cover the cake pan/ mold with aluminum foil and put in carefully into place them on top of the larger pan that has the water in it in the pre-heated oven. Close and allow to cook in the middle rack for about 1 hour to 1 hour and 30 minutes.
6 When you think it's done, uncover and insert a toothpick or knife if it comes out clean it's done, if not continue to bake covered a little longer, but if done remove, uncover and allow to cool
7 Once ready to serve loosen edges with a knife, place a plate on top and flip over Slice yourself a piece and enjoy. The result will be this delicious moist chocolate cake with a flan layer, most of the chocolate cake will absorb the delicious caramel syrup and be oh so sinful