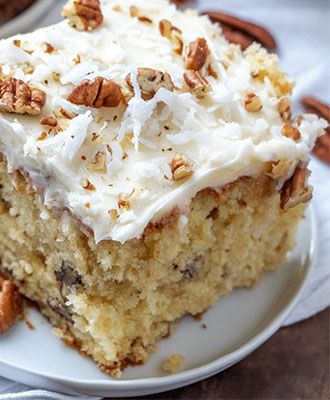 Cake:
1/2 cup unsalted butter, at room temperature
1 cup vegetable oil
1 cup + 3 T sugar
5 eggs, separated
3 tsp vanilla extract
1 cup sweetened, flaked coconut
2 cups all purpose flour
1 tsp baking soda
1 tsp baking powder
1/4 tsp salt
1 cup buttermilk
Preheat oven to 350 degrees. Spray three 9″ round cake pans with baking spray or grease and flour.
Beat egg whites in a clean mixing bowl, increasing speed from low to medium high until you reach stiff peaks. Set aside.
In a large mixing bowl, cream together butter, oil, and 1 cup sugar until light and fluffy, about two minutes. Mix in the egg yolks and vanilla and mix until well incorporated. Add in the coconut and mix to combine. In a separate bowl, combine flour, baking soda, baking powder and salt and whisk together.
Alternate adding flour mixture in three additions and buttermilk in two additions to the batter, beating until just incorporated after each addition. Once complete, fold in egg whites. Fold in 1/3 of the egg whites first to lighten the batter, then gently fold in the remaining egg whites.
Divide batter evenly among pans, sprinkle the tops with one tablespoon of sugar each. Bake approximately 20 minutes until a toothpick inserted in the center of each comes out clean. Tops should be golden brown. Cool in pans about 10 minutes, run a knife around the edge to loosen and invert onto a rack covered with wax or parchment paper. Flip right side up and let cool completely.
Frosting and Filling:
2 8 oz packages of cream cheese, at room temperature
1/2 cup unsalted butter, at room temperature
2 tsp vanilla extract
2 lbs powdered sugar
3/4 cup sweetened, flaked coconut
Approximately 2 cups chopped pecans
Combine cream cheese and butter in mixing bowl and beat until light and fluffy, about 3 minutes. Add vanilla extract and beat until well incorporated. Gradually add in powdered sugar, mix on low speed until the frosting reaches the desired consistency. Remove approximately 1/3 of the frosting to a separate bowl to make filling. Add coconut and 3/4 cup chopped pecans to the filling and mix well. Set aside remaining frosting to ice the cake.
To assemble:
Level tiers as necessary. Add about a tablespoon of frosting to the center of the cake board or platter to prevent cake from sliding around. Place first tier on a cake board or cake platter, top with 1/2 of the filling mixture, leaving about a 1/4 to a 1/2 inch border around the outside of the cake. Smooth filling with an offset spatula. Top with next cake layer, pressing lightly to level, and add remaining filling. Smooth and top with final cake layer. Place in the freezer for about 15 minutes to firm up the filling. Crumb coat cake with frosting and return to freezer for about 15 minutes to set. Ice the cake with remaining icing, adding chopped pecans to the side while icing is still wet. Smooth the top and pipe on decorative borders as desired. Store cake, covered, in the refrigerator.