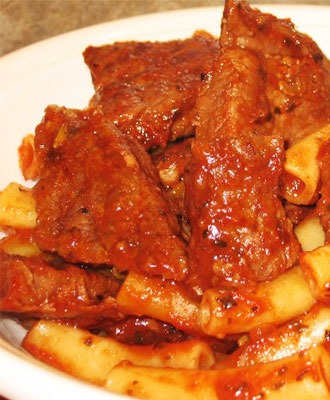 Ingradient
2 pounds trimmed chuck roast
1 tablespoon vegetable oil
(1) 6 ounce can of tomato paste
4 cups beef broth (not bullion cubes)
1/2 cup chopped onion
2 teaspoons dry basil
1 teaspoon dry oregano
½ teaspoon fennel seed (do not leave out)
pinch of cayenne pepper(do not leave out)
1 teaspoon salt
½ teaspoon black pepper
1 tablespoon of white sugar (do not leave out)
3 cups uncooked SHORT and STURDY noodles
2 cups sliced mushrooms
Direction

Trim as much fat from the chuck steak as you can and brown it well in 1 tablespoon vegetable oil. Place the browned meat in a heavy oven proof pan that has a lid (or you can use foil). Saute the onions in the same frying pan until transparent. Add the tomato paste, beef broth and seasonings to the onions and heat it a little so the tomato paste completely mixes with the broth. Pour over the meat.

Put a tight fitting lid on the pan or seal it TIGHTLY with foil, and bake at 300 degrees for 2 hours. After 2 hours, remove the lid, and stir in 3 cups of UNcooked noodles and the mushrooms. Make sure the noodles and mushrooms are covered with sauce.

Put the lid back on (or cover tightly with foil) and turn the oven up to 350 and bake for another 30 minutes.