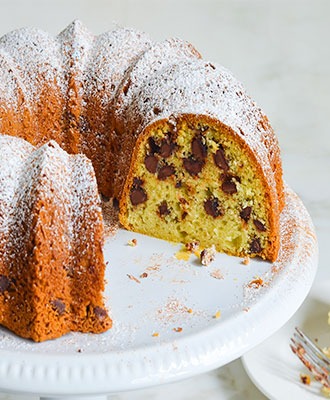 Ingredients :
Chocolate Paste
2.5 tbsp cocoa powder (I used Valrohna, feel free to use any brand you prefer)
2.5 tbsp hot water
Cake Batter
210g unsalted butter, room temperature (I used salted as I took the wrong one)
275g caster sugar (this amount of sugar had slightly reduced from HBS's recipe)
4 medium eggs
2 tsp vanilla extract
175g sour cream
350g all purpose flour
2 1/3 tsp baking powder
1/6 tsp baking soda
1/2 tsp salt (I omit since I used salted butter)
1/3 cup chocolate chips (I used 55.5% cocoa)
Method:
1. Preheat the oven to 180C. The generously grease a 10.5″ bundt pan.
2. In a small bowl, mix the cocoa powder and the hot water together to make a smooth paste.

3. In a large mixing bowl, cream the butter and sugar together till light and fluffy. Blend in the eggs and then vanilla. Then add in the sour cream, and scraping the bottom of the mixing bowl to make sure it is evenly combined.

4. Fold in the flour, baking powder, baking soda, salt and blend well. Lastly, mix in the chocolate chips into the batter and mix well.

5. Remove 1/3 of the batter and mix in the chocolate paste in to it.

6. Spoon in big scoops of vanilla batter into the bundt pan and alternating with some spoons on chocolate batter as well to create the marble effect. Repeat till all the batter has been put in.

7. Place in the oven to bake for 35 to 40 minutes (I should have baked for 30 mins since I used reduced the ingredients to fit 10.5″), depending on your oven. Bake till golden brown and the tester comes out clean. If the top of the cake browns too quickly, cover with foil first until done.

8. Once baked, remove from oven and let cool on rack for 15 minutes, then remove from pan and let cool completely.