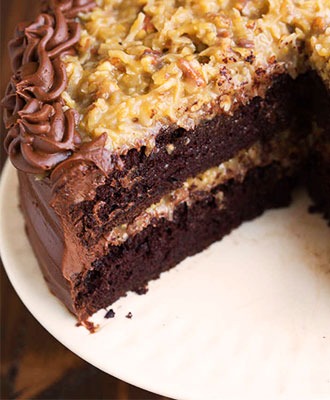 Chocolate Cake
1 3/4 cups all-purpose flour, plus more for pans
2 cups sugar
3/4 cups good cocoa powder
2 teaspoons baking soda
1 teaspoon baking powder
1 teaspoon kosher salt
1 cup buttermilk, shaken
1/2 cup vegetable oil
2 extra-large eggs, at room temperature
1 teaspoon pure vanilla extract
1 cup freshly brewed hot coffee
Preheat the oven to 350 degrees F. Prepare your cake pans.
Sift the flour, sugar, cocoa, baking soda, baking powder, and salt into the bowl and mix until combined.
In another bowl, combine the buttermilk, oil, eggs, and vanilla. With the mixer on low speed, slowly add the wet ingredients to the dry. With mixer still on low, add the coffee and stir just to combine, scraping the bottom of the bowl with a rubber spatula. Pour the batter into the prepared pans and bake for 35 to 40 minutes, until a cake tester comes out clean.
Cool in the pans for 30 minutes, then turn them out onto a cooling rack and cool completely.
Topping
1 cup evaporated milk
1 cup white sugar
3 egg yolk, beaten with 1 teaspoon water
1/2 cup margarine
1 teaspoon vanilla extract
1 cup chopped pecans
1 cup flaked coconut
In a large saucepan combine evaporated milk, sugar, egg yolks, margarine and vanilla. Cook over low heat, stirring constantly, until thick. Remove from heat and stir in pecans and coconut. Spread on cake while still warm.
Ganache
250g dark cooking chocolate, chopped
1/3 cup cream
Combine chocolate and cream in a heatproof bowl over a saucepan of simmering water. Stir with a metal spoon until smooth. Remove bowl from heat.
Set aside at room temperature to cool, stirring occasionally, until ganache is thick and spreadable.