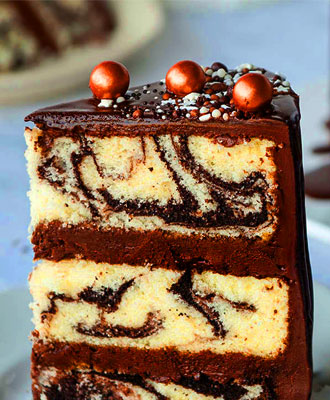 For the base:
80g digestive biscuit crumbs
50g unsalted butter, melted
For the chocolate mixture:
120g good quality plain chocolate, chopped
35g unsalted butter, diced
2 large eggs
150g caster sugar
75g flour
pinch of salt
1/2 tsp baking powder
2 to 3 drops vanilla extract
50g broken walnut pieces
For the cheese mixture:
25g unsalted butter
1/2 tsp vanilla extract
85g cream cheese (philadelphia)
50g sugar
1 large egg, beaten
10g plain flour
First make the base. Mix the biscuit crumbs and the melted butter together and then press the mixture into the base of a well buttered 9 inch springform pan to make a thin even layer. Chill in the fridge while you make the filling.
Pre-heat the oven to 180*C/350*F.
Melt the chocolate gently in a heatproof bowl over a pan of steaming water. DO not let the water touch the bowl. Stir the chocolate until melted and smooth. Remove the bowl from the heat and stir in the butter until it is melted.
Beat together the eggs and sugar for the chocolate mixture with a wooden spoon until frothy. Sift the flour, baking powder, and salt together into the bowl. Add the chocolate and butter mixture and the vanilla. Mix well together and then stir in the nuts. Spred this mixture over the chilled base.
To make the cheese mixture, cream the butter until creamy and then beat in the vanilla and cream cheese until light and fluffy. Gradually beat in the sugar and then the egg. Add the flour and stir well. Spoon this mixture on top of the chocolate layer in the pan. Swirl the tip of a knife through both mixtures to marbel.
Bake in the heated oven for 25 to 30 minutes until just firm. Remove from the oven and allow to cool in the pan before unmoulding.
Serve at room temperature.
Store airtight and eat within 5 days. This cake improves in flavour for several days after baking. Yummo!!