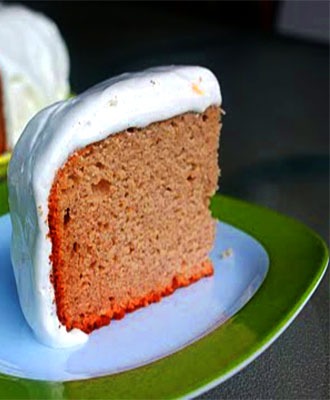 Banana Cake
Ingradient
1 ½ cups ripe bananas (mashed)
2 tablespoons lemon juice
3 cups sefl-raising flour
2 teaspoons baking powder
¼ teaspoon salt
¾ cup butter (softened)
2 1/4 cups sugar
3 eggs separated
2 teaspoons vanilla extract
1 ½ cups Milk
Direction
Pre-heat the oven to 160 Grease 2, 8" round baking pans
In a small bowl mash bananas, set aside. In a medium bowl sift flour and salt. Set aside. In a large bowl cream ¾ cups butter and 2 1/8 cups sugar until light and fluffy. Beat in egg yolks one at a time. Stir in vanilla extract. Mix together lemon juice and baking powder, quickly beat into mix. Beat in the flour mixture alternately with the milk. Stir in banana mixture. Whip egg whites to soft peaks and gently fold in.
Evenly pour batter into 2, 8" round baking pans. Bake for 1 hour to 1 hour and 30 minutes or until a toothpick comes out clean. Between those times keep checking on the cake with a toothpick to see if it's done. Cool completely.
Frosting
Marshmallow frosting
Ingradient
4 large egg whites
1 cup sugar
Juice and zest of one lemon
2 teaspoons pure vanilla extract
Direction
In a heatproof bowl of an electric mixer, place egg whites, sugar, vanilla and lemon. Set over a saucepan of simmering water. Whisk the mixture constantly until the egg whites are warm to the touch and the sugar is dissolved, 3 to 4 minutes.
Transfer the bowl to electric mixer, fitted with the whisk attachment. Starting on low speed, gradually increasing to high, beat until the mixture is stiff and glossy peaks form (5 to 7 minutes).
Use immediately, as the marshmallow frosting will continue to stiffen