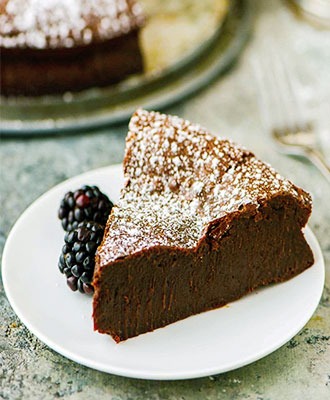 Ingradient
250g unsalted butter
250g dark chocolate
¾ cup cocoa powder
1 2/3 cups nut meal
6 eggs
1 ½ cups caster sugar
1/3 cup of brandy or cognac
2 teaspoons vanilla extract
Topping
250g dark chocolate
300ml whipped cream
Direction
Preheat your oven to 180c Butter a 23cm cake pan
Melt the butter over a low heat. Add the chocolate and whisk till melted. Take off heat and sift in cocoa. Stir until thick and smooth, set aside.
Whisk eggs and sugar until glossy and thick. Whisk in chocolate mixture. Add nuts, brandy and vanilla. Mix well. Pour batter into pan
Bake the torte for 40-45 minutes at 180o until sides are set but centre is still wobbly. Allow to cool completely before turning out.
For topping melt chocolate in a Bain Marie, take off heat. A spoonful at a time, add cream mixing well between each spoonful. Pour over cooled torte.
Top with raspberries and thick cream.
Can be frozen for up to a month.