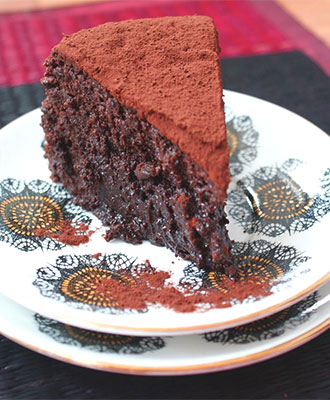 Ingradient
Cocoa to dust pan and over top of cake
200 grams unsalted butter
500 grams bittersweet chocolate, finely chopped
1/8 teaspoon salt
10 large eggs, separated
1/4 teaspoon cream of tartar
1/2 cup caster sugar
1 cup of ground hazelnut meal
Direction
1- Adjust oven rack to middle position and preheat oven to 180c Grease bottom and sides of 9-inch springform pan and dust with cocoa. Set pan on baking sheet.
2- Place butter, chocolate, and salt in very large heatproof bowl. Heat over saucepan of barely simmering water, stirring occasionally, until melted and smooth. Remove from heat and let cool slightly.
3-Beat whites and cream of tartar on medium speed until frothy. Increase speed to medium-high and continue to beat until whites have turned opaque. While whites are beating, slowly add 2 tablespoons sugar and continue to beat to stiff but not dry peak. Transfer beaten whites to a bowl.Using same unwashed mixing bowl and whip, beat yolks and remaining 1/2 cup sugar on medium-high speed until light lemon colour, 3 to 5 minutes.
4- Gently whisk yolks into chocolate mixture until combined (trying not to deflate yolks). Fold in nut meal. Gently fold whites into chocolate mixture in three batches, until just combined and no streaks of white remain.
5- Pour batter into pan and bake until cake is puffed, edges feel set, centre is jiggly set. Transfer pan to wire rack to cool 1 hour. Serve at room temperature.