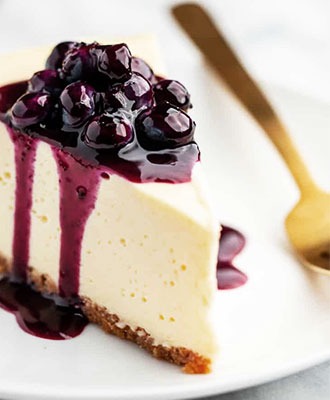 Ingredients:
For the base:
1 cup digestive biscuits-crumbs,
3 tbsp of melted butter,
1/4 tsp of cinnamon powder and
1/2 cup of sugar
For the filling :
16 oz /approx 500 grams of cream cheese,4 large eggs,
16 oz sour cream,
1 1/4 cup sugar,
3 tbsp all purpose flour,
1 tsp vanilla extract and
1 tsp lemon zest.
For the sauce:
2-3 cups fresh Blueberries,1/2 cup of sugar,
1 tbsp of cornstarch and
juice of half lemon.
Direction
Preheat the oven to 325° F / 162° C. In a bowl, mix all the ingredients for the crust and And press this mixture firmly into a round spring form baking pan. Press in very firmly using the back of a ladle or with a measuring cu(with flat surface). When, the crust is firmly pressed, refrigerate the pan till the filling is ready.
To make the filling- Beat the cream cheese in a bowl with a hand held mixer on medium speed until fluffy.Add the sugar and beat again for 1 minute. Add the eggs 1 at a time and beat on low speed after each addition . Add the sour cream, flour, vanilla essence and the zest and beat on low speed just till all the ingredients are well combined. Pour this mixture into the chilled crust and bake in the middle rack of the oven for 45-60 minutes or until firm, but little wobbly in the center. Remove from the oven and let it cool on a wire rack . Refrigerate for ateast 7-8 hours or overnight and just before serving top it with blueberry sauce or store bought blueberry pie filling.
For the sauce:
Combine all the ingredients listed above in a non stick saucepan and cook over a medium heat until the sugar is melted, the blueberries breaks and till it reaches the consistency of a sauce. Cool in the refrigerator until ready to use.