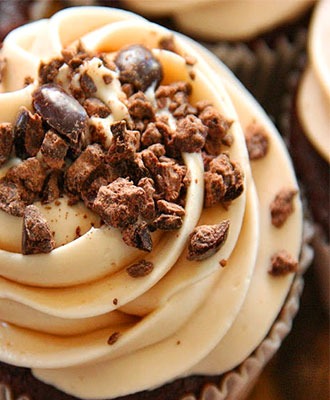 Ingradient
cupcakes:
1 cup butter, softened to room temperature
1 3/4 cup sugar
2 eggs
2 tsp. vanilla extract
1 cup buttermilk or 1 cup whole milk with 1 Tbs. lemon juice
1/2 cup strong coffee, cooled
2 cups flour
3/4 cup cocoa powder
1 tsp. baking soda
1 1/2 tsp. baking powder
1/2 tsp. salt
frosting:
8 oz. bar cream cheese, cold
1/2 cup butter (1 stick), softened to room temperature1 tsp vanilla extract
4 Tbs. Kahlua coffee liqueur*3 1/2 cups powdered sugar, measure then sift
topping:
1/2 to 3/4 cup Kahlua coffee liqeuer*
1 cup chocolate covered espresso beans
Direction
Preheat oven to 350 degrees F. Line 3 muffin pans with cupcake liners. Beat together butter and sugar till light and fluffy. Slowly add eggs one at a time. Sift together flour, cocoa powder, baking soda, baking powder and salt. Combine the buttermilk and coffee together. Alternate adding the flour mixture and buttermilk mixture. Pour into the prepared pans. Bake for 12-15 minutes or until a toothpick inserted in the middle of the cupcake comes out clean. Let cool for at least 10 minutes then poke holes on top of each cupcake. Drizzle about 1/2 teaspoon of Kahlua over each cupcake.
With the mixer on a low speed, beat the cream cheese and butter till blended. Mix in vanilla and Kahlua. Slowly add the powdered sugar, a cup at a time. Once all the powdered sugar is added, increase to a higher speed to whip up the frosting till light and fluffy. Transfer frosting into a piping bag.
Place the chocolate covered espresso beans inside a ziploc bag. Using a rolling pin, lightly crush them into smaller pieces. Pipe frosting on top of each cupcake. Drizzle a little bit of Kahlua on top of the frosting. Sprinkle the crushed chocolate covered espresso beans on top of each cupcake.