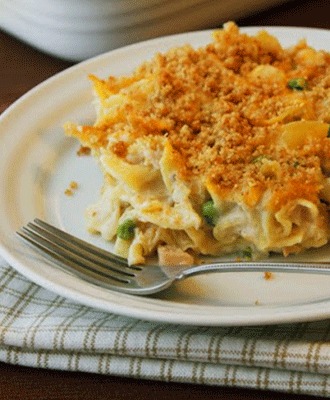 Ingradient
12 ounce package dry egg noodles
3 tablespoons butter
1/2 yellow onion, finely diced
3 tablespoons flour
3 1/2 cups cold milk
1 (10-oz) can condensed cream of mushroom soup
1 teaspoon salt
1/4 teaspoon freshly ground black pepper
2 (7-oz) cans tuna, well drained, crumbled
3/4 cup frozen peas, thawed, drained
1 cup shredded cheddar cheese
1/2 cup shredded Monterey jack cheese
1/2 cup plain bread crumbs
2 tbsp olive oil
Direction
1- Melt the butter in a medium saucepan, and sauté the onions over med-low heat for about 4 minutes, or until translucent. Turn up the heat to medium; add the flour, and cook, stirring, for another 2 minutes. While whisking vigorously, slowly pour in one cup of the cold milk.
2- When the mixture begins to simmer, add the rest of the milk, can of mushroom soup, salt, and pepper. Cook, stirring occasionally, until the sauce thickens, and comes to a simmer. Remove from heat, and reserve.
3- Cook noodles in boiling salted water, one minute less than the directions call for. Drain well, and add to a large mixing bowl. Add the sauce, tuna, peas and about 2/3 of the cheese. Mix with a spatula to combine.
4-Preheat oven to 350 degrees F.
5- Pour the mixture into a lightly oiled 9 x 13 casserole dish, and top with the rest of the cheese. Mix the breadcrumbs and olive oil together in a small bowl until combined. Sprinkle evenly over the casserole. Bake for 35 minutes, or until browned and bubbly.