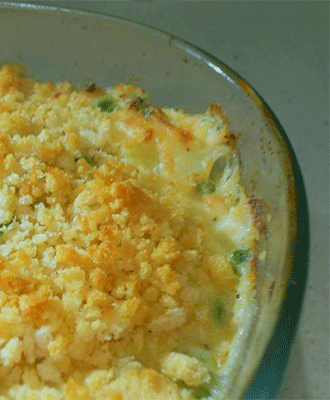 Ingradient
Printable Recipe
2 (160g) tins of skinless, boneless salmon (I buy Connetable
Wile Alasken Pink Salmon. You can also use one large tin of
regular pink wild salmon, drained, skin and bones removed)
4 medium potatoes, peeled and cut into cubes
1 cup of frozen peas
For the sauce:
2 TBS butter
2 TBS plain flour
1 medium onion, peeled and chopped
a dash of hot pepper sauce
salt and black pepper to taste
8 ounces milk
4 ounces single cream
To top:
1 cup soft bread crumbs
1 TBS butter melted
Direction
1-Place the cubed potatoes into a saucepan and cover with slightly salted water. Bring to the boil. Simmer for about 10 minutes. You want them almost cooked, but still retaining their shape. Drain well, and place in a bowl. Flake the salmon and mix it into the potatoes along with the frozen peas. Set aside.
2- Butter a shallow 2 pint baking dish. Pre-heat the oven to 180*C/375*F.
3- Make the sauce as follows. Melt the butter in a saucepan and add the onions. Cook, stirring until the onions have softened. Whisk in the flour. Cook for one minute. Whisk in the milk and cream. Cook and stir until the mixture bubbles and thickens. Season to taste with salt and pepper and hot pepper sauce.
4-Pour the cream sauce over the potato mixture, stirring gently to combine. Spread into the prepared baking dish. Mix the bread crumbs and butter together. Sprinkle evenly over top of the casserole and then bake in the heated oven for about 30 to 35 minutes, until bubbling and nicely browned on top.