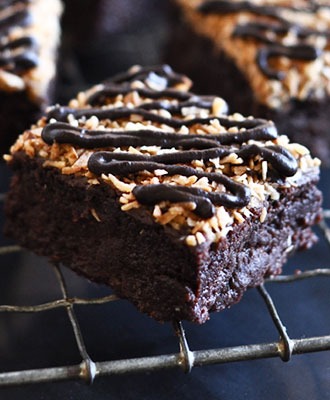 Ingredients:
3/4 cup dutch-processed unsweetened cocoa powder
1/2 teaspoon baking soda
2/3 cup butter, melted & divided (1/3 cup + 1/3 cup)
1/2 cup boiling water
1 cup sugar
1 cup Wholesome Sweeteners Organic Coconut Palm Sugar
(or firmly packed brown sugar)
2 large eggs
1 1/3 cups flour
1 teaspoon vanilla extract
1/4 teaspoon salt
1 cup chocolate chips
1 box Samoas Girl Scout Cookies, coarsely chopped
1 cup sweetened flaked coconut (more if you like!)
1 cup chocolate chips, melted for drizzling – optional*
Directions:
Preheat your oven to 350ºF, and butter a 9×13″ glass baking dish.
In a large mixing bowl, stir together the cocoa and baking soda. Stir in 1/3 cup of the melted butter until smooth. Stir in the boiling water until the mixture is smooth and thick. Stir in the sugar and eggs with the remaining 1/3 cup melted butter.
Place the 1 cup chocolate chips (and caramels if you are using them!) in a small bowl and sprinkle with 1 tablespoon of the flour, tossing to coat.
Into the chocolate mixture, stir in the remaining flour, vanilla and salt until just smooth. Stir in the flour-coated chocolate chips and the chopped cookies and spread the mixture into your prepared baking dish.
Sprinkle evenly with the coconut and press down gently into the batter.
Bake for 35-40 minutes, or until the edges start to pull away from the pan. (Always better to under-bake than to over-bake brownies!!) Cool completely in the pan.