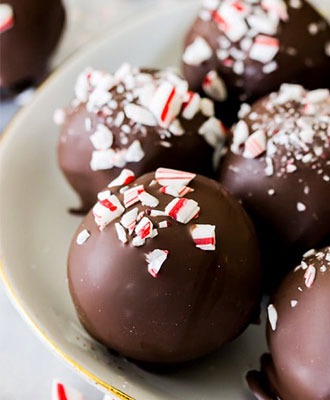 Ingredients:
1 (16.6oz) package regular Oreo cookies (not double-stuffed)
6 regular-sized candy canes, unwrapped and finely crushed
1 (8oz) package cream cheese, room temperature
2 cups chocolate chips
1 tablespoon vegetable oil
Directions:
Place all the Oreo cookies in the bowl of your food processor and pulse until they are finely ground.
Set aside a few tablespoons of the crushed candy canes and then dump the rest and the block of cream cheese into the food processor. Continue to pulse until the mixture is well combined and smooth.
(You can do this in a mixer or by hand, of course… I just find that the food processor makes the quickest work of it! If you're not using a food processor, crush up the Oreos in a ziploc bag before mixing!)
Place the mixture into the fridge to firm up a little for about 30 minutes to an hour.
Line a cookie sheet with parchment or waxed paper. Take the truffle mixture out of the fridge and scoop and roll equal sized balls, placing them onto the tray as you go.
Once your tray is full, place the truffles in the freezer to chill for at least an hour or up to a day.
When you're ready to coat, carefully melt the chocolate chips and vegetable oil in the microwave, stirring well every 30 seconds, until smooth.
Drop each truffle into the melted chocolate and coat evenly with a fork, gently tapping off the excess chocolate. Place the now-dipped chocolate truffle back on the tray and immediately sprinkle with a pinch of crushed candy canes. Repeat until all the truffles are dipped & sprinkled!
Store the truffles in the fridge, in an airtight container. The peppermint flavor comes out even more after several hours of being in the fridge!