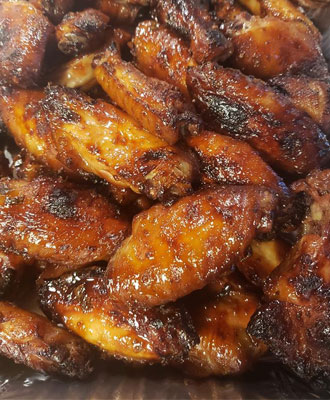 Ingredients
20 Chicken Wings, cut apart, drummettes and wingettes
1 Cup Flour
1 TBS Cornstarch
Canola Oil to fill a large heavy bottomed Skillet (Cast Iron works great) about 1/2 inch from bottom
FOR THE SAUCE –
1-1/4 Cup Soy Sauce
1/2 Cup Garlic Rice Wine Vinegar (Cooking wine)
1/3 Cup Honey
2 TBS Garlic Powder
2 TBS Sugar
2 TBS Sriracha Hot Sauce
Cooking Directions
Heat the Canola Oil over medium high heat until you reach the "Popping Stage" (when you add drops of water to the oil and it starts to POP)/
Dry each chicken wing with a paper towel.
In a ZipLock bag, add the flour and cornstarch (Shake to mix). Then add the chicken wings, seal and shake to coat.
Preheat the oven to 350 degrees.
Work in batches, add 1/2 of the coated wings to the oil. Do not crowd the wings, allow them to have their space, not touching the other wings. Fry for 8 minutes, flip the wings and fry the other side for another 8 minutes.
Repeat with second batch.
While the wings are cooking, prepare the sauce. In a large bowl, add all of the ingredients for the sauce. whisk well to combine.
When all batches of wings have been fried, add the wings to the bowl with the sauce and mix to evenly coat each wing.
Line a rimmed cookie sheet with aluminum foil (for easy clean up). Place the wings on the sheet, again giving space, not touching.
Bake for 15 minutes until the skin begins to crisp up and caramelize.
Serve Hot with a Blue Cheese or cool Ranch dipping sauce and ENJOY!