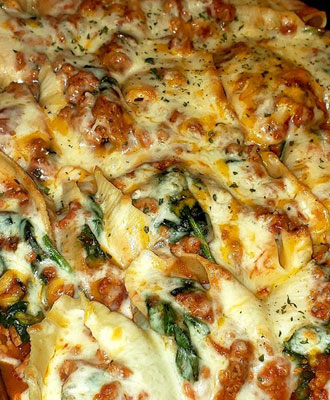 ingredients:
1 box large pasta shells
1 1/2 lb jar tomato & basil marinara sauce (we love Classico)
15oz ricotta cheese
16oz small curd cottage cheese
2 C freshly grated mozzarella cheese
1/2 C parmesan cheese
1 t garlic powdersalt and pepper
2 eggs
2 T chopped italian parsley
method:
1. Bring a large pot of salted water to a boil. Add in shells and cook until al dente. Drain and set aside.
2. Pour half the marinara sauce in the bottom of a glass 9×13 dish, spread it around to reach all the edges.
3. Preheat oven to 350 degrees. Make the filling: in a medium bowl, combine the ricotta, cottage cheese, 1 1/2 C mozzarella cheese, parmesan cheese garlic powder, salt, pepper, eggs, and italian parsley. Mix thoroughly until the egg has broken up evenly, and the mixture is uniform throughout.
4. Stuff shells one by one, filling about 1 heaping tablespoon of filling per shell. Place shells carefully in the prepared dish in a line, until all the shells have been filled. Pour sauce in a line over the shells. top with the rest of the mozzarella cheese, a little more parmesan, and a sprinkle of parsley. Cover with aluminum foil.
5. Bake for 45-60 minutes, or until sauce is bubbly & the filling is hot. Serve with a fresh green salad and garlic bread.