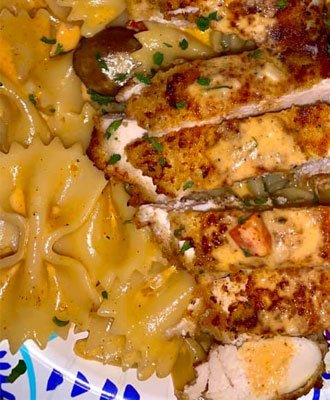 Cajun Sauce
1 tablespoon butter
1 small yellow bell pepper, chopped
1 small red bell pepper, chopped
3/4 small red onion, chopped
3 cloves garlic, minced
1 teaspoon red pepper flakes
2 1/2 cups whipping cream
1 cup low-salt chicken broth
4 tablespoons julienned basil
1 cup grated Parmesan cheese
1 cup sliced mushrooms
Salt and pepper
Pasta
1 package bow-tie pasta, cooked according to package directions
Shaved Parmesan cheese, for serving
Chicken
3/4 cup bread crumbs
2 tablespoons flour
1/4 cup grated Parmesan cheese
1 cup milk
4 tablespoons vegetable or olive oil
6 boneless, skinless chicken breasts, pounded 1/4 inch thick
Do ahead: Make the Cajun sauce by sautéing the yellow and red peppers, onion, garlic, and pepper flakes in the butter. Add the cream and chicken broth. Bring to a quick boil then lower the heat and simmer until reduced by one cup. Add the basil, Parmesan cheese, and mushrooms, then season with salt and pepper. Simmer a few minutes more, until all ingredients are combined. Set aside or refrigerate in a covered container and gently reheat the sauce when ready to use.
2. To make the chicken breasts, combine the bread crumbs, flour, and Parmesan cheese in a shallow bowl. Put the milk in a separate bowl. Heat the oil in a large skillet. Dip each breast in the bread crumb mixture, then in the milk, and one more time in the crumbs, pressing gently to make sure the crumbs stick. Sauté until golden brown on both sides and cooked through. Keep each breast warm until all are done.
3. To serve, toss the cooked pasta with the Cajun sauce, ladle into individual bowls, and top with a chicken breast. Garnish with a little more Parmesan cheese on top.