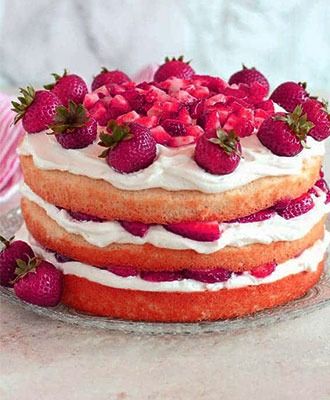 Ingredients:
(makes one 18cm sponge cake)
for the sponge layer:
100g cake flour
3 eggs, room temperature
90g caster sugar
20g unsalted butter, melted
2 tablespoons fresh milk
1 teaspoon vanilla extract
for the filling:
1 pack of strawberries (about 250g)
300ml non-dairy whipping cream
2 tablespoons caster sugar
4 tablespoons hot boiling water
Method:
To make the sponge layer:
Sift cake flour for 3 times, set aside. Line bottom and sides of an 18cm (7 inch) round pan with parchment paper, set aside. Pre-heat oven to 170degC. Position rack at the lower bottom of the oven.
With an electric mixer, whisk eggs and sugar on HIGH speed for about 5 to 7 mins, until the batter turns pale, becomes thick, double/triple in volume and is ribbon-like (the batter should leave a ribbon-like trail when the beater is lifted up). Turn to LOW speed and whisk for another 1 to 2 mins. Whisking at low speed helps to stabilise the air bubbles in the batter.
Sift over cake flour into the batter in 3 separate additions. With each addition, use a spatula, gently fold in the flour until well blended. Take care not to deflate the batter.
Add the melted butter, fold in gently with spatula until well blended
Add in fresh milk, vanilla extract and fold in gently with spatula until well blended.
Pour the batter into the prepared pan and bake for 30~35 mins, or until a skewer inserted in the centre comes out clean. Unmold and invert onto cooling rack, cool completely.
To Assemble:
Dissolve caster sugar in hot boiling water, set aside to cool.
Reserve 10 strawberries for decorating the cake. Slice remaining strawberries into thin slices (about 4 slices per strawberry).
Slice sponge cake horizontally into 3 layers.
Whisk non-dairy cream with an electric mixer till stiff peak.
Place one sponge layer cut-side up on a cake board or serving plate and brush the surface with the sugar syrup. Spread on some whipped cream and arrange the strawberry slices over the surface. Spread over with some whipped cream.
Brush both sides of the 2nd sponge layer with the sugar syrup and place it over the first layer. Repeat with whipped cream, strawberry slices and whipped cream.
Brush the cut-side of the 3rd layer with the sugar syrup and place it over the 2nd layer. Frost sides and top of cake with whipped cream. Decorate as desired and garnish with reserved strawberries.