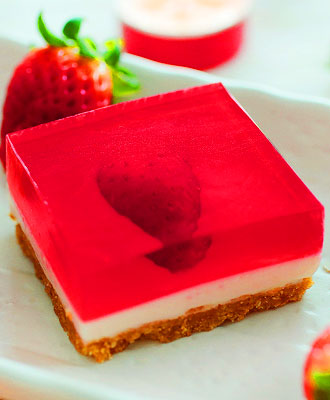 Ingredients:
base:
110g digestive biscuits(about 8 pieces), chopped into fine crumbs
40g melted butter
filling:
250g cream cheese, soften at room temperature
50g icing sugar
1 tablespoon gelatin powder
40ml boiling water
1 teaspoon vanilla essence
1 box Jelly crystal (strawberry flavour)
1 cup boiling water
1 cup cold water
Some strawberries, cut into heart shapes
Method:
1. Mix biscuit crumbs & melted butter together and press firmly with the help of a spoon onto the base of a 18cm cake tin. Chill for 30 minutes.
2. Place gelatin powder and boiling water in a bowl. Heat a pot filled with some water until just simmering and place the bowl inside the pot. Dissolve gelatin and boiling water in the bowl. Keep warm.
3. With an electric mixer, beat cream cheese , icing sugar and vanilla essence until smooth & creamy. Blend in gelatin solution and mix well.
4. Pour the cheese mixture into the cake tin. Layer the strawberries on the cheese mixture. Chill for at least 3 to 4 hours.
5. Dissolve the jelly crystal in the cup of boiling water, followed by the cold water. Pour the jelly on the cheese mixture. Let it set before removing from the cake tin.