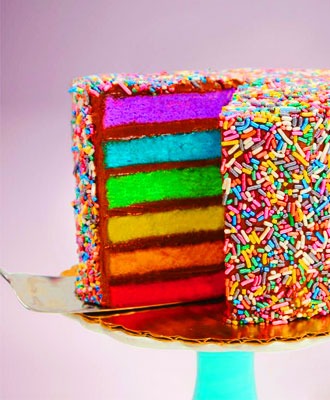 Ingredients:
(makes one 9″ cake)
1 1/2 cup (161g) all purpose flour
3/4 cup (61g) natural cocoa powder
1 1/4 teaspoon baking powder
1/2 teaspoon baking soda
1/4 teaspoon salt
1 2/3 cups (332g) granulated sugar
1/3 cup (80ml) safflower or other neutral vegetable oil (I used olive oil)
2 large eggs
1/3 cup (80ml) whole milk (I used low fat milk)
2 teaspoons vanilla extract
1 cup (240ml) boiling water
Method:
Preheat oven to 325 degF. Grease bottom and sides of a 9 x 3 inches round cake pan. Dust the pan with flour and set aside. (I lined the bottom with parchment paper.)
Sift together flour, cocoa powder, baking powder, baking soda and salt into the bowl of an electric mixer. Add in sugar and mix at low speed until blended. (I used a spatula to mix in the sugar). Add in the oil and mix a few seconds until the dry ingredients are crumbly. (I used a spatula to mix in the oil).
In a small bowl, whisk together the eggs until blended. Whisk in the milk and vanilla extract until blended. With mixer at low speed, add the egg mixture to the flour mixture and mix until blended, scraping down the sides of the bowl necessary. (I used a manual whisk to do the mixing. The batter will be very thick at this stage).
Add in the boiling water gradually and mix just until blended and smooth, scraping down the sides of the bowl as necessary. (The mixture will become very thin and watery.)
Pour batter into the prepared pan and bake for 45 to 55 mins until a toothpick inserted into the centre comes out clean. Cool the cake in the pan for 20mins before unmoulding. Let cool completely.
To assemble this 20cm rainbow chocolate cake:
– Place pouring cream (I used one tin of Nestle's pouring cream) and 150g dark chocolate in a saucepan over low heat. Stir until melted and smooth. Set aside for 10mins before frosting the cake.
– Slice two large bananas, lengthwise into halves. Squeeze some lemon juice over.
– Slice chocolate cake into 2 layers. Spread one layer with the chocolate frosting, arrange the sliced bananas (cut side down) on the cake layer to form 2 concentric rings. Cut the bananas as necessary in order to form the two rings.
– Spread the other cake layer with chocolate frosting, flip over and layer it over the banana slices.
– Coat the top and sides of the cake surface with the remaining chocolate frosting. Decorate with colourful cereals and marshmallows as desired.