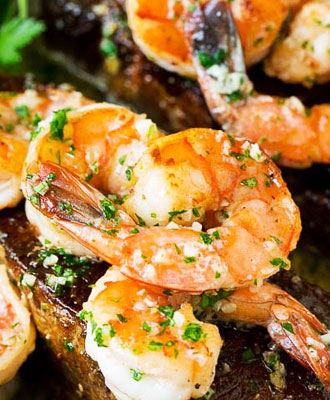 Ingredients:
2 boneless New York strip steaks (1 inch thick)
Salt and pepper
Olive oil
4 Tbsp. butter, divided
2 shallots, minced finely
3 garlic cloves, minced finely
1 lb. shrimp, de-shelled and deveined, heads and tails on
1 tsp. paprika
1/4 c. whiskey (bourbon)
1/4 c. orange juice
2 tsp. honey
1 1/2 Tbsp. mustard
1/4 c. chives, minced
Directions:
Heat a large cast iron pan over medium-high heat. Season the steaks liberally with salt and freshly ground black pepper. Add about 3 Tbsp. oil to the pan along with 2 Tbsp. butter, and once foamy, carefully lay the steaks into the pan. Cook for 4-5 minutes on each side, until dark golden brown.
Once the steaks are medium rare (about 8-10 minutes in the pan), remove the steaks and set aside to rest.
Add another 1-2 Tbsp. olive oil to the pan and then add the shallots and garlic. Season with salt and pepper and toss to coat. Toss in the shrimp and season with salt, pepper and paprika. Cook for about a minute before adding the bourbon and orange juice. Reduce by half, simmering until the shrimp just begin to turn pink. Stir in the honey, mustard and the rest of the butter. Swirl the pan to emulsify.
Remove the pan from the stove and pour over the steaks. Garnish with chopped chives and serve.