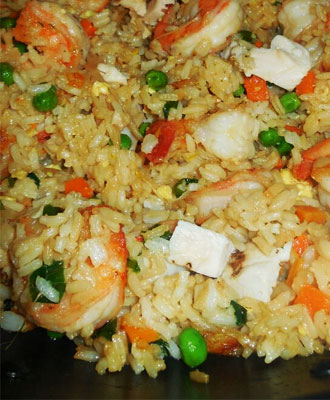 3 tablespoons of canola or peanut oil, as needed
1 large egg, beaten
8 ounces of medium shrimp, peeled, deveined and cut in half
1 medium onion, diced
1/2 teaspoon grated fresh ginger
1 small clove garlic, minced
4 cups chilled cooked rice
1/2 cup peas, thawed if frozen
2 tablespoons quality soy sauce (I used Kikkoman)
kosher salt, to taste

Heat 1-2 tablespoon of oil in a large wok or nonstick skillet over high heat. When it is almost smoking, add the egg and stir with spoon, breaking up the egg as it sets. Transfer the egg to a large bowl and keep it in a warm spot.

Add the shrimp to the wok, stir-frying until just pink, about 2 minute. Transfer the shrimp to the bowl with the egg.

Add the onion to the wok along with another tablespoon of oil, if needed. Stir-fry onion until browned but still a bit crunchy, about 2 minutes. Scrape onion into the bowl.

Add a oil, if needed. Add the ginger and garlic and cook for about 30 seconds, immediately add the rice. Stir-fry, making sure the rice doesn't stick to the wok. When it's beginning to brown a bit, add the peas and soy sauce. Continue stir-frying until everything is heated through 1-2 minutes. Toss in the reserved shrimp mixture and thoroughly mixed.