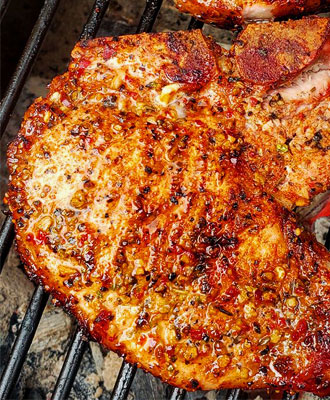 Ingredients:
1 Tablespoon paprika
1 teaspoon cayenne pepper
1 teaspoon brown sugar
1/2 teaspoon garlic powder
1/2 teaspoon kosher salt
1/4 teaspoon pepper
4 bone-in pork loin chops 1-inch thick
1 cup buttermilk
1/4 cup honey
2 Tablespoons beer
1 Tablespoon Sriracha
1 teaspoon lime juice
1 teaspoon Hoisin
Additional Items for smoking:
Apple wood chips (about a cup), soaked in water for 30 minutes
Apple juice or beer 2 cups
Directions:
In a small bowl, mix the paprika, cayenne, brown sugar, garlic powder, salt, and pepper together until well combined. Rub over both sides of each pork chop. Allow to rest in the refrigerator for 1 hour. Pour buttermilk over the chops and continue marinating for 2-4 more hours.
In another bowl, mix together the honey, beer, Sriracha, lime juice, and Hoisin. Set aside.
Heat smoker to 220 degrees. Remove pork from marinade; discard marinade. Place the pork on the top rack of the smoker. Smoke for 30 minutes. Mop both sides of the pork with the Sriracha sauce. Continue smoking another 30 minutes, mopping with sauce every 10 minutes.
Preheat grill to medium high. Remove pork from smoker and place directly on the grates (rub oil on the grates first) and cook directly over the fire for 2-3 minutes on each side, or until the pork is cooked through, 160 degrees. Enjoy!