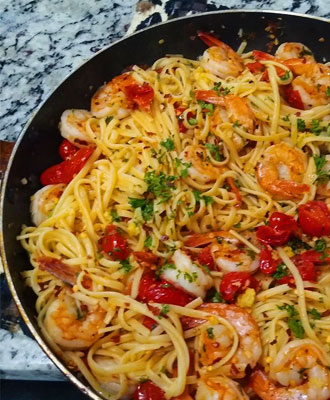 1 lb. shrimp
6 garlic cloves – finely minced
1 stick of butter
2 tbsp. olive oil
1/4 cup white wine – use one you would drink
1 tbsp. fresh or dried parsley
granulated garlic to taste (used for marinating the shrimp)
1/4 tsp. red pepper flakes
salt and black pepper to taste
Prep the shrimp, peel, de-vein and rinse the shrimp well. Pat them dry and add them to a glass bowl. Generously sprinkle granulated garlic over the shrimp and mix well. Refrigerate for about 20 minutes (marinate) and pull the shrimp back out to come to room temperature when you are ready to use them.
In a deep skillet melt your butter and olive oil over low heat. Add in the garlic to infuse with the butter. Bring the heat up to medium and add in the white wine, stir. Let this bubble for a couple of minutes to burn off the alcohol.
Reduce the heat if necessary so the garlic does not burn. Toss in the red pepper flakes, stir and add in the shrimp. At this point you could add in salt and a pinch of black pepper to taste.
Bring the heat up to medium low, add in the parsley to the shrimp. Stirring for about 5-8 minutes until the shrimp are cooked through.