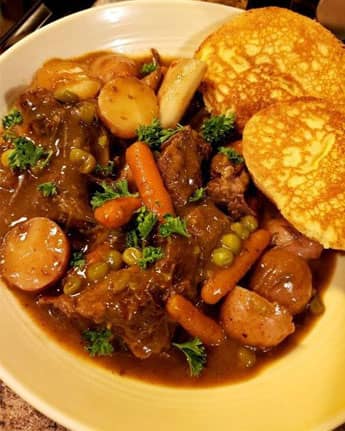 4 meaty beef short ribs
1 tbsp. Crisco shortening (for searing)
5 medium red potatoes – washed and cut in quarters
4 large carrots – peeled and cut
2 stalks celery – peeled and cut
1 lrg. onion – peeled diced
1 pkg. crimini mushrooms- stems removed halved, quartered or left whole
2 cans beef broth or one 32 ounce box beef broth
2 cans water or 8 ounces
salt and pepper to taste
1/4 tsp. dried thyme
1 tsp. granulated garlic (for the pot) plus extra on the meat
onion powder to taste (for the meat)
1 tsp. Gravy Master
cornstarch slurry (equal parts water and cornstarch for thickening)
Salt and pepper all sides of the short ribs along with some onion powder and granulated garlic.
Over moderately high heat, add in about 2 tbsp. of Crisco shortening and melt it down. Let the shortening heat up and add in the beef ribs. Brown on all sides.
When all of the ribs are seared, remove all but about a tablespoon of the accumulated fat and add in the celery, onions and carrots all at once. Reduce the heat to a medium low.
As the vegetables begin to soften and release their natural juices, keep stirring and loosen up all of the good bits from the bottom and sides of the pot that occurred during the searing process.
Add in the mushrooms and stir. Cook for about 30 seconds then de-glaze the pan with some of the water to help this process along.
Add the water, the Gravy Master and the beef broth to the pot.
At this point add in the thyme, salt and black pepper to taste and the granulated garlic powder.
Stir and add in the beef ribs in bone side up. Cover and reduce heat to low and simmer for about 2 1/2 hours until the ribs are really tender.
In the final 40 minutes of cooking add your potatoes. You don't want to add them too early and have them turn to mush.
When the ribs are fully cooked, remove them to a platter. Skim off excess fat with a ladle or use a fat separator. If you want a thicker sauce – more like a gravy, make a slurry of equal parts water and cornstarch. Turn the heat to medium high and bring the liquid up to a boil. Slowly add in the slurry, stirring until you achieve the thickness you desire.