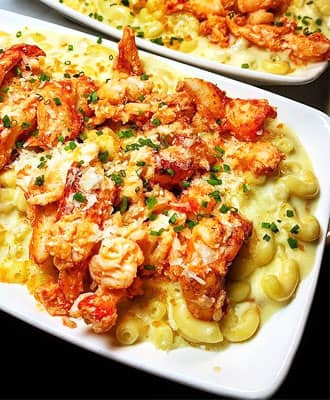 For the Sauce:
2 tablespoons unsalted butter
2 tablespoons flour
3 cups milk
2 cups shredded white cheddar cheese
1 cup Sargento Artisan Shredded Gruyere and Swiss cheese
¼ cup grated Parmesan cheese
3 tablespoons chopped chives
Salt and white pepper to taste
For the topping:
2 tablespoons unsalted butter, melted
3 tablespoons Panko bread crumbs
Chopped chives for sprinkling
Other Ingredients:
8 ounces chopped lobster meat
3 cups dried elbow macaroni, cooked al dente
All you need to do:
Preheat oven to 375 degrees F.
Cook the elbow macaroni, drain and set aside.
In a medium saucepan, over medium heat, melt 2 tablespoons butter. Add the flour and stir to mix well. Allow flour to cook for about 2 minutes to cook off the flour taste, stirring constantly.
Add one cup of the milk while whisking constantly. Whisk until all lumps are dissolved. Continue whisking until sauce begins to thicken… then add the remaining milk and continue whisking until milk is blended in.
Add the cheeses and stir until sauce has thickened.
Remove from the heat and add the chives.
Add salt and pepper to taste.
Dump the cooled macaroni into the original pot that you cooked it in. Add the lobster and chives, mix well.
Add the sauce and mix well.
Spoon generous servings into individual casseroles.
In a small measuring cup or bowl, mix the melted butter and Panko crumbs with a fork.
Sprinkle the crumb mixture on top of each casserole and then sprinkle with chopped chives.
Bake for about 25 minutes or until casserole bubbles along the sides and top is lightly browned.