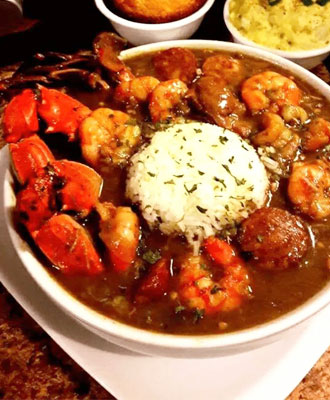 Ingredients:
1 cup canola oil
1 cup flour
2 large onions, diced
6 jumbo blue crabs, cut into 4 pieces each
1 pound spicy smoked sausage links, sliced ½ inch thick
1 stalk celery, diced
1 green bell pepper, seeded and diced
2 cloves garlic, minced
1 cup sliced fresh okra
Leaves from 1 sprig fresh thyme
5 quarts Basic Shellfish Stock:
2 bay leaves
1 pound medium Louisiana or wild American shrimp
1 cup shucked oysters
1 cup lump crabmeat
1 cup minced green onions
Salt
Freshly ground black pepper
Basic Creole Spices:
Worcestershire
Tabasco
4-6 cups cooked Louisiana white rice
Procedure:
1. Make a roux by heating the oil in a large cast iron or heavy-bottomed pot over high heat. Whisk the flour into the hot oil. It will immediately begin to sizzle. Reduce the heat to moderate and continue whisking until the roux is a deep brown color, about 15 minutes. Add the onions, stirring them into the roux with a wooden spoon. Reduce the heat to moderate low and continue stirring until the roux is a rich dark brown, about 10 minutes.
2. Add the blue crabs, smoked sausage and stir for a minute before adding the celery, bell peppers, garlic, and okra. Increase the heat to moderate and cook, stirring, about 3 minutes. Add the thyme, Shellfish Stock, and bay leaves. Bring the gumbo to a boil, stirring occasionally. Reduce the heat to medium low and simmer for 45 minutes. Stir occasionally and skim off the fat from the surface of the gumbo.
3. Add the shrimp, oysters, crabmeat and green onions to the pot and cook for 15 minutes. Season to taste with salt and pepper, Creole Spices, Worcestershire, and Tabasco and serve in bowls over white rice.
And Enjoy…!
Don't forget to share this great recipe with your Facebook friends!!
Save it for later in Pinterest.
Like it? Share it!