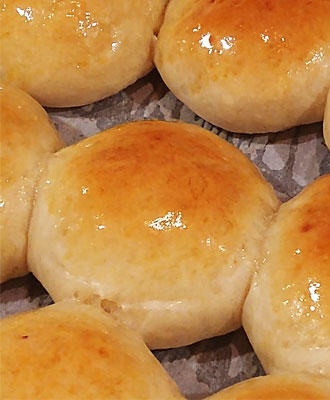 3 cups high protein plain flours
1 cup warm water
1 tablespoon yeast
1 teaspoon salt
2 tablespoon sugar
2-3 tablespoon olive oil
sesame seeds
1 egg, beaten
Garlic Spread:
50 butter
3 grated garlic clove
2 tablespoon basil, chopped
3 tablespoon shaved parmesan cheese
Method
Pour in warm water, olive oil followed by salt, flour and sugar. Put the yeast last.
Press the dough button and let the breadmaker knead until finished.
Combine butter, garlic, basil and cheese and blend until well mix.
Warm your oven at 100c for 10 minutes. Then turn if off.
Place a piece of baking paper onto the kitchen bench. Divide the dough into half. Roll the dough about 15cmx20cm rectangle. Spread with about 1/2 garlic butter (leave 2 tablespoons for later use), then roll up the dough.
Cut the the bread into 4 equal portions. Repeat the procedure for the remaining dough. Spread the left over garlic butter on top and sprinkle with some sesame seeds.
Leave the bread for 2nd proof in the warm oven for 45 minutes or until the bread about double in size. You may find some melted butter at the bottom of the pan, it will be absorbed in cooking later.
Brush the rolls with egg and sprinkle more sesame seeds. Bake in moderately oven for 20-25 minutes.
The bread is best to be eaten fresh. Heat the cold bread in microwave for 20 seconds to get the freshness again.