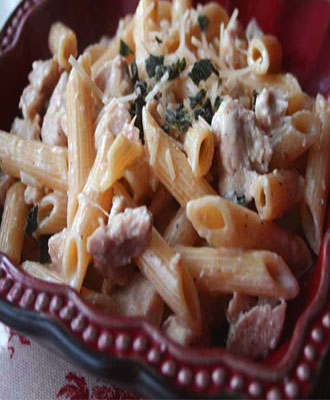 The ingredients:
1 pkg. (16-oz.) penne pasta
1 lb. boneless skinless chicken breasts, cut into 1/2-inch pieces
1 Tbs. olive oil
1 large garlic clove, minced
1/4 cup white wine (I used a white cooking wine)
1 cup heavy whipping cream
1/4 cup chicken broth
2 cups (8-oz.) crumbled Gorgonzola cheese
6-8 fresh sage leaves, thinly sliced
Salt and pepper, to taste
Grated Parmesan cheese and parsley (for garnishment)
Directions:
1-Cook pasta according to package directions. Meanwhile, in a large skillet over medium heat, brown chicken in oil on all sides. Add garlic, cook 1 minute longer. Add wine, stirring to loosen browned bits from pan.
2-Add cream and broth; cook until sauce is slightly thickened and chicken is no longer pink. Stir in Gorgonzola cheese, sage, salt, and peppers;
3- Cook just until cheese is melted. Drain pasta; toss with sauce.
4- Sprinkle with Parmesan cheese and parsley if desired. Makes 6-8 servings. Enjoy