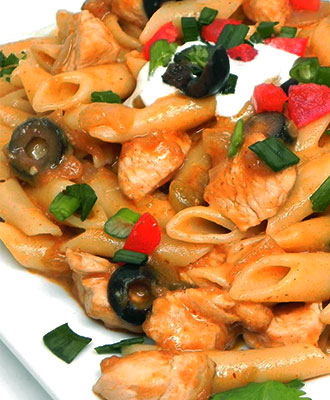 Ingradient
2-3 chicken breasts, cooked & shredded {or shredded rotisserie chicken…I used the breasts}
2 tbsp. olive oil
2 garlic cloves, minced
1 medium onion, diced
1 red pepper, diced
1 {4 oz.} can diced green chiles
1/2 tsp. salt
2 tsp. chili powder
1 tsp. cumin
2 {10 oz.} cans green chili enchilada sauce
2/3 cups red enchilada sauce
2 cups shredded cheese {I used colby & monterrey jack}
1 cup sour cream
Penne pasta
Direction
1-Cook chicken, drain, and shred {or shred your rotisserie}.  Meanwhile boil pasta according to package and chop the veggies.  The most time consuming part of this recipe is the time spent chopping the veggies. Y'all…it took like, 5 minutes 😉 
2-Heat the olive oil in a deep skillet and cook onions for about 3-5 minutes.  Add garlic & red pepper and cook for another 3-5 minutes. 
3-Add cooked chicken, green chiles, cumin, chili powder, salt, & enchilada sauces.  Let sauce simmer for about 8-10 minutes.
4-Add cheese and stir until the cheese is melted and heated through.  Now toss in the sour cream, but whatever you do, DO NOT bring to a boil!  Cook on low heat or the sour cream will curdle.  Gross.  Stir until sour cream is well mixed and heated through.
5-Drain pasta & return to pot.  Pour sauce over pasta and mix well.  Serve and garnish with avocado, tomato, green onion, and a dollop of sour cream.