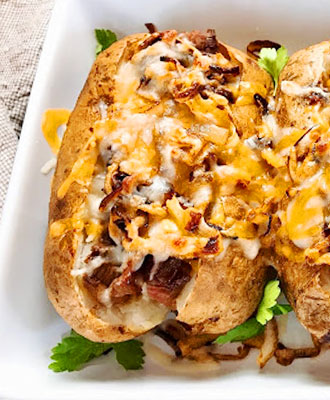 4 (5 1/2 oz) russet potato, washed and dried
1/2 lb thin sliced beef round sandwich steaks
salt and fresh cracked pepper, to taste
garlic powder, to taste
1/2 medium onion, sliced into long 1/4″ thick strips
1/2 red bell pepper, thinly sliced into 1/4″ thick strips
1/2 green bell pepper, thinly sliced into 1/4″ thick strips
1/2 tsp olive oil
8 oz sliced mushrooms
cooking spray, sprayed about 4 seconds
4 slices provolone cheese
1. Poke holes in the potato with a fork, then cook in the microwave using the baked potato setting until potatoes are soft and cooked through (about 8-10 minutes on high for 4 potatoes). If you don't have a microwave, bake about 45 minutes at 400°F.
2. Meanwhile, slice beef into thin strips. Season with salt, garlic powder and fresh pepper to taste. Heat a large skillet over high heat. When the skillet is very hot, spray with cooking spray and add half of the beef. Cook one minute, then turn steak and cook an additional 30 seconds. Set aside in a large dish.
3. Spray the skillet again and when it gets hot add the remaining steak, cooking one minute, then turning and cooking 30 seconds more. Add remaining steak to the dish.
4. Return skillet to heat and spray once again with cooking spray; add onions and peppers and season with salt and pepper. Cook one minute, then turn and cook an additional 1 to 2 minutes or until onions are golden. Set aside with steak.
5. Lower heat to medium and add 1/2 tsp olive oil to the skillet, add mushrooms, salt and pepper and lightly spray the top of the mushrooms with cooking spray. Cook 1 1/2 minutes, then turn mushrooms and cook another minute and a half. Add to dish with steak and onions and stir to combine.
6. Split the potato in half lengthwise down the middle as I did in the photo then divide the steak and vegetables evenly over each potato and top each with a slice of provolone. Place under the broiler to melt the cheese, careful not to burn.