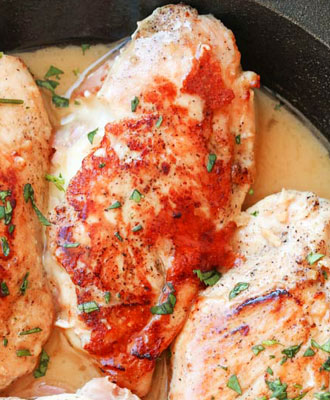 ingradient
2 boneless skinless chicken breast halves
1 tbsp minced fresh Italian parsley
1/2 tsp Dijon mustard
1 slice Muenster cheese (about 1/2 oz.), halved
2 thin slices prosciutto or deli ham
1/8 tsp salt
3 tbsp all-purpose flour
1 tbsp olive oil
1/8 cup dry white wine, Marsala or chicken broth
Direction
Slice chicken breasts horizontally without cutting all the way through; open so breasts are flat. Place between 2 pieces of plastic wrap; pound gently with flat side of meat mallet or rolling pin.
In small bowl, stir together parsley and mustard; spread over half of each chicken breast.
Top each with half slices of cheese and ham.
Fold breasts to enclose stuffing, pressing edges together to seal. Sprinkle with salt. Place flour on plate; dip chicken in flour, tapping to remove excess.
Heat oil in large nonstick skillet over medium heat until hot.
Add chicken; cook 6 to 10 minutes or until golden brown, no longer pink in center and juices run clear. Place on serving platter.
Increase heat to medium-high. Add wine to skillet; cook 30 to 60 seconds or until slightly reduced, stirring to scrape up any browned bits from bottom of skillet. Pour over chicken.
Even having forgotten the last step, the deglazing pan juice part, this chicken was good. I bet it'd be even better with the pan juice, but for some reason, I always, always, always forget the saucy part whether it be for steaks or ribs or chicken. The realization usually comes right after we eat. Doh! I'm going to have to try this recipe again with the intention of including all the steps.