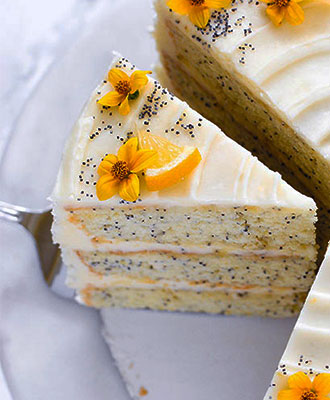 Recipe of Lemon Cake
1 1/2 cups cake flour
2/3 cup sugar (for less sweet)
1 tsp salt
1/2 tsp baking soda
150 g butter, soft
2 eggs
1 1/2 Tbps lemon zest
1/4 cup lemon juice (you may not use it all)
1 Tbp lemon pulps
1/8 cup Moscatel (sweet wine with flower's aroma)
a small pinch of turmeric (can't add too much as it has a strong wood-sy taste)
Direction:
1-Pre-heat the oven to 350F, pre-grease a loaf pan
2-In a large mixing bowl, combine the flour, salt, baking soda, set aside.
3-In another small bowl, combine the lemon juice and the wine, side aside.
4-In another mixing bowl, beat the butter and sugar until light and fluffy, add the eggs and a pinch of turmeric, well-combined.
5-Combine the flour mixture, the butter mixture, the lemon zest, the lemon pulps and the juice mixture (the latter one adjustable according to the final consistency). The batter is soft and paste-like, scoop it into the loaf pan, send to oven to bake about 40 – 45 minutes, test the done-ness by inserting a toothpick in the center, if it comes out almost clean, the cake is done.
6-Unmold the cake and let cool completely on a rack. Wrap it well and keep in the fridge for a day (as the taste further develops overnight). Since the cake has a dome top, if you want it flat for a nicer presentation and/or for glazing, slice the top off and turn the bottom side up before proceeding the following step.
7-glazing (I prefer having it warm to suit this cold weather): warm the lemon juice, add the powder sugar (it still tasts very tart as which is what I like) until it reaches your desirable sweetness. Pour it over the cake and it's ready to serve.