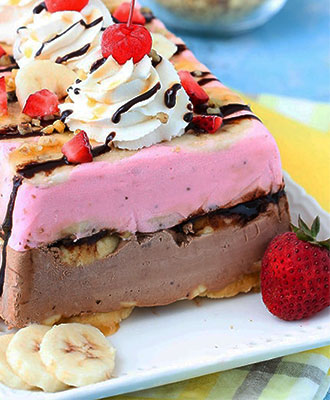 Ingredients:
20 Oreo cookies, crushed
4 tablespoons butter, melted
3-4 bananas
1 pint strawberry ice cream
1 jar hot fudge sauce
1 pint vanilla ice cream
1 (10oz) package frozen sliced sweetened strawberries, thawed
crushed pineapple
Directions:
Take out the strawberry ice cream to thaw. Place the Oreos in a gallon ziploc bag and crush well with a rolling pin or small frying pan. Pour the melted butter into the ziploc bag and mix it up. Press this crumb mixture into the bottom of a 9″ springform pan.
Slice the bananas into 1/2″ rounds and arrange in a single layer on top of the crust. (Use as many banana slices as needed to fill the layer.) Place the pan into the freezer for about 10 minutes.
Scoop the softened strawberry ice cream in small scoops on top of the frozen banana layer, smoothing it together with a spoon dipped in warm water. Return to the freezer for 1-2 hours, until the ice cream is firm again.
Take the vanilla ice cream out of the freezer to thaw. Warm the hot fudge sauce slightly, just until it is easily spreadable. Pour the fudge over the strawberry ice cream layer, smoothing the top, and place back into the freezer for 15 minutes or so, until the fudge has firmed up again.
Scoop the softened vanilla ice cream in small scoops on top of the fudge layer, again smoothing it together with the back of a spoon dipped in warm water. Cover with plastic wrap and return to the freezer for at least another 4-6 hours until very firm. (At this point the cake could be frozen, well wrapped, for a week or longer!)
Pour the sliced sweetened strawberries into a bowl and crush with a pastry blender until the berries are all mashed up. Strain the crushed berries through a fine mesh strainer. Store in the fridge until almost ready to serve the cake.
Spread the strained crushed berries over the top of the cake, to within one-half inch of the edge. Serve with fresh whipped cream and crushed pineapple for those who want it!