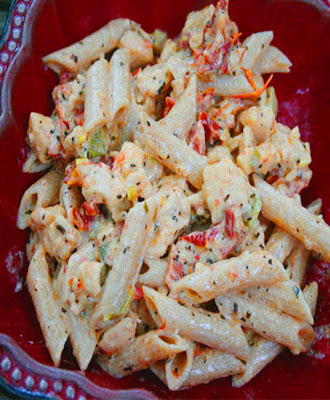 The ingredients:
3-4 green onions, chopped
1 tsp. garlic, minced (we added a 1/2 tsp. more)
2-3 boneless, skinless chicken breasts, cubed
1 (8-oz.) bottle sundried tomatoes packed in oil (the oil is used in the recipe, so don't drain it yet)
1 pint heavy cream
2 tsp. dried basil (or 1/2 cup fresh basil, finely chopped)
1/4 cup Parmesan cheese, grated
1 lb. penne pasta, cooked as directed on package and drained
Direction
Directions: Drain oil from sundried tomatoes into a large skillet.
Chop the tomatoes into 1/2-inch pieces and set aside.
Heat skillet and saute onions, garlic, and chicken breasts in the oil from the sundried tomatoes.
Cook for about 3 minutes. Add the sundried tomatoes.
Simmer 5 minutes. Add cream.
Simmer 5 minutes more. Add basil, Parmesan, and garlic salt.
Stir until well combined. Pour over cooked and drained pasta and stir until combined. Makes 5-6 servings.