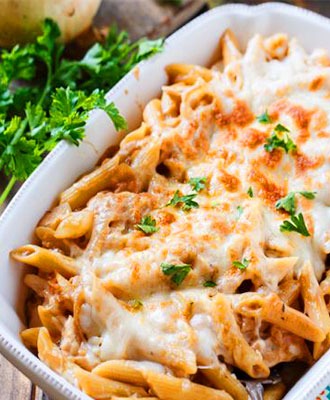 Ingredients:

2 cups of uncooked penne pasta
1 to 1.5 cup of chicken stock
1 packet of Lipton's Onion Soup mix
1 shallot, finely diced
2 cloves of garlic, smashed
1/2 cup of marsala wine
4 tablespoons of light cream
1 tablespoon of flour
1/4 cup of shredded mozzarella cheese
1 tablespoon of EVOO
Directions
1- Cook pasta according to directions, set aside and keep warm.
2- In a saucepan, heat the EVOO. Add the scallions and garlic, stir continually until soft and fragrant.
3- Add the marsala wine, scraping the bottom of the pan to remove any stuck on pieces of onion.
4- Add the stock and soup mix packets, allow to cook on low for about 20 minutes.
5- Stir in flour, whisking continually until well incorporated and thickened.
6- Add the light cream, mix well.
7- Add the pasta to the sauce, stir well.
8- Pour into an oven safe dish. Top with the mozzarella cheese.
9- Set it under the broiler until the cheese gets a little crispy.