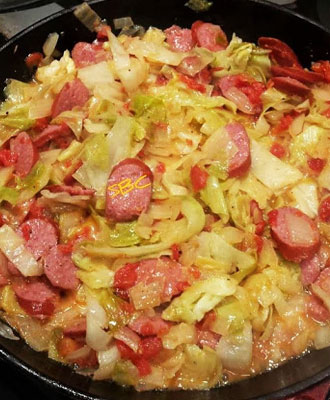 Ingredients
1 lb extra lean ground beef
1 tsp olive oil
1/2 small onion, diced
1 large carrot, shredded
2 cloves garlic, minced
1 head cabbage, shredded
1/2 cup water
2 Tbsp Worcestershire
2 Tbsp Thai sweet chili sauce
1/4 tsp garlic saltsalt & pepper
Directions
In a large sauce pan, cook beef until no longer pink. Remove to a bowl, set aside.
In the same large pan; add olive oil to pan. Add in onion, carrot, garlic. Cook and stir until onions have started to soften. Add cabbage, water, Worcestershire, sweet chili sauce, garlic salt, salt & pepper. Cover and cook until water is gone and cabbage is soft, about 10 – 15 minutes. (If you need to add more water and cook longer then do so – you want the cabbage to be thoroughly cooked.)
Stir the cooked ground beef back into the cabbage and let cook until heated through.
Serve hot.
NOTE – As you may be able to tell from the photos, I did not shred my cabbage but rather chopped it. I didn't have our food processor and didn't feel like shredding the whole head by hand. Chopping it works just as well as shredding as long as you make sure you chop it into fairly small bits.
In case you need another reason to give this a try – it is full of fibre, protein, Vit A, Vit B6, Vit B12, Vit C, Zinc, and a lot of other healthy stuff.
You can easily change this up to suit your tastes too. Different veggies, different spices – I'm finding it quite interesting and fun to play around with different veggie and spice combinations to find my favorites.