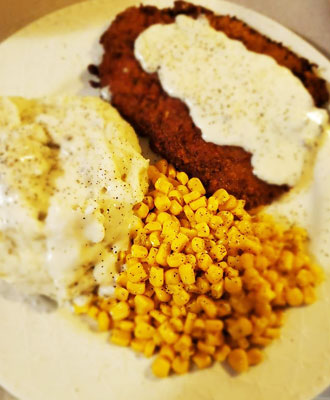 Ingredients
1 lb cube steak
oil for frying (vegetable or something flavorless)
Ingredients for the Buttermilk Brine
1 large egg
1 cup buttermilk
1 tbsp hot sauce
1 tsp salt
Ingredients for the Seasoned Flour
1 ½ cups gluten free flour ( I used Bob's Red Mill 1 to 1 baking flour)
¾ cup corn starch
1 tbsp salt
2 tsp paprika
1 tsp garlic powder
1 tsp onion powder
½ tsp black pepper
¼ tsp cayenne pepper
Ingredients for the Gravy
1 ½ tbsp reserved oil from frying the steaks
2 tbsp gluten free flour
1 ½ cups milk
1 bouillon cube (beef or chicken)
Instructions
In a medium bowl beat the egg then add the buttermilk, hot sauce and salt and whisk until well combined then add the cube steaks and let them soak while you prep the flour.
In another medium bowl combine the gluten free flour and cornstarch with 1 tablespoon of salt and the paprika, garlic powder, onion powder, black pepper and cayenne pepper and stir until well combined.
Remove each cube steak from the buttermilk brine and let the excess liquid drip off before dipping the meat into the seasoned flour then turn it over to coat it thoroughly and place the meat onto a baking rack where the air can circulate.
Once all the meat is coated if you want a thicker coating you can return the steak to the egg mixture then back into the seasoned flour before placing it back onto the rack to let it rest for at least 15 minutes before frying.
To fry them, in a medium cast-iron skillet, heat ½ inch of vegetable oil to a medium heat and fry 2-3 steaks at a time until they start to look golden brown which should take about 2-3 minutes per side
Drain them on a wire rack so the air can circulate and they won't get soggy while you make the gravy.
For the gravy, remove all but 1 ½ tablespoons of the oil from the pan then sprinkle over 2 tablespoons of gluten free flour…. and with the pan over a medium low heat whisk the flour and grease together stirring constantly to create a golden roux then pour in the milk and a beef bouillon cube and continue whisking until the bouillon is dissolved and the gravy is thick and smooth then serve with the steaks.