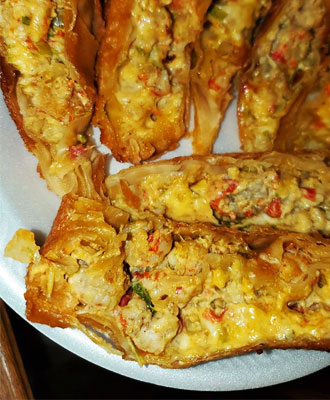 1 1/2 cups Crawfish Tails, chopped
2 tsp Old Bay Seasoning1 tsp Butter
1/4 cup Onion, minced
3 cloves Garlic, minced
3/4 cup Andouille Sausage, cut in a small dice
4 tbsp Worcestershire Sauce
1 1/2 cups Shredded Mozzarella Cheese1 cup corn
1/2 block of Cream Cheese (4 oz, room temp)
12 Egg Roll Wrappers
In a large bowl, add crawfish and seasonings.
In a skillet, saute onions and garlic in butter and Worcestershire
sauce, until tender.
Add crawfish and sausage.
Saute for 2-3 minutes.Dump back into the large bowl to cool
Mix cheeses and corn until well mixed.Add to the cooled meat mixture.
Put an egg roll wrapper on a dry surface.
Place 2 tablespoons or so of the filling mixturein the middle of the wrapper.
Fold the top down…
Tuck the bottom in a little and fold over the sides
Fold in the other side… Notice the small white bowl?It has water in it…
Wet the top edge with a water on your fingertipand roll toward the end. The water will seal the edges.
Press to seal.
Fry rolls at 375 degrees until golden, about 2 minutes.