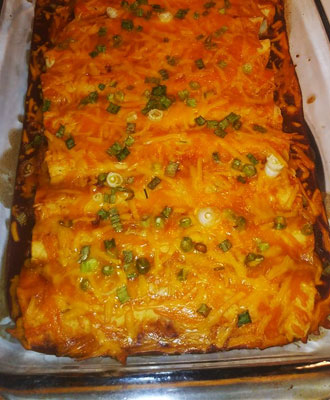 Enchilada sauce:
2 tbsp canola oil
2 tbsp flour
2 tbsp chili powder
1 tsp ground cumin
14 oz can chicken broth
8 oz can tomato sauce
1 tsp salt
¼ tsp garlic powder
3 cups enchilada sauce (above)
1 recipe Crockpot Chicken Tacos
2 cups shredded Colby Jack cheese
16 six-inch corn tortillas
Heat oil in saucepan; stir in flour and chili powder, cook for 1 minute. Add remaining ingredients, bring to a boil and simmer for 10 minutes.
Add ½ cup cheese and ½ cup enchilada sauce with the shredded chicken. Stir to combine. Microwave the tortillas, 15 to 20 seconds, until soft.
Spread 3 to 4 tablespoons of the enchilada sauce in bottom of a glass dish. Fill each tortilla with 2 spoonfuls of chicken mixture and roll up. Place seam side down in dish, side by side. Pour remaining sauce over, top with remaining cheeses and bake at 350 degrees F until bubbling- 15-20 minutes. Garnish with sour cream, green onions, and cilantro.