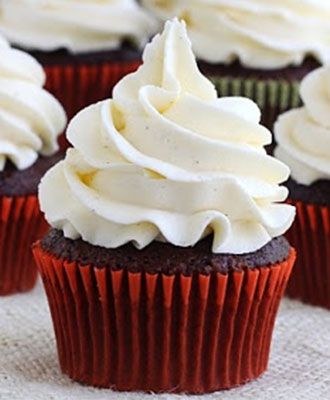 Ingredients
3 ½ c cake flour
2 c sugar
1 Tbsp baking powder
½ tsp salt
1 c (2 sticks) butter, unsalted, diced, at room temperature
1 c whole or low-fat milk (divided use)
4 large eggs
2 large egg whites
2 tsp vanilla extract
Directions:
Preheat the oven to 350F. Coat two 8" cake pans lightly with cooking spray
Sift the flour, sugar, baking powder and salt into the bowl of a stand mixer fitted with the whisk attachment or a large mixing bowl. Add the butter and ½ cup of the milk. Mix on medium speed until smooth, about 4 minutes, scraping down the bowl with a rubber spatula as needed.
In a separate bowl, blend the eggs, egg whites, the remaining ½ cup milk and the vanilla extract. Add to the batter in 3 additions, mixing for 2 minutes on medium speed after each addition. Scrape down the bowl between additions.
Divide the batter evenly between the two pans. Bake until the layers spring back when touched lightly in the center, 35-40 minutes.
Remove the layers from the oven and cool completely in their pans on wire racks. Release the sides and bottom of the layers from the pans with a narrow metal spatula or a table knife before unmolding and finishing with fillings and icings.