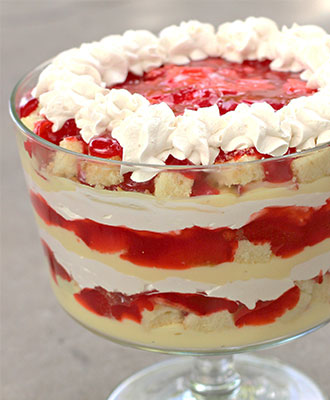 Ingredients
-8 ounces softened cream cheese
-1 can sweetened condensed milk
-8 ounces cool whip (or make your own by whipping 1 cup heavy cream, 1/2 cup powdered sugar and 1 teaspoon vanilla)
-24 ounces of pound cake (typically 1.5 loaves)
-2 pounds fresh strawberries, washed, stemmed and cut into slices (about 4 cups)
To make
-Using an electric mixer, whip the cream cheese (to soften quickly microwave in a bowl for 15 seconds), then add sweetened condensed milk and blend until well mixed and there are no lumps of cream cheese. Add the cool whip (or whipped cream) and mix together.
-Slice the pound cake into 16-20 thin slices.
-Wash, remove the stems and slice the strawberries into slices (about 4 slices per strawberry).
-In a trifle bowl (or another deep bowl) place a layer of pound cake slices to cover the bottom. You may need to break some of the slices up to make them fit.
-Spread about 1-1 1/2 cups of the cream topping and then add a layer of strawberries.
-Repeat this process until you have used up all of your pound cake, ending with a layer of strawberries. I usually end up with 4 layers.
-If you have any extra cake (or butter cookies) crumble it on top of the top layer before adding the strawberries.
Cover and refrigerate 24 hours.
-Serve and enjoy!