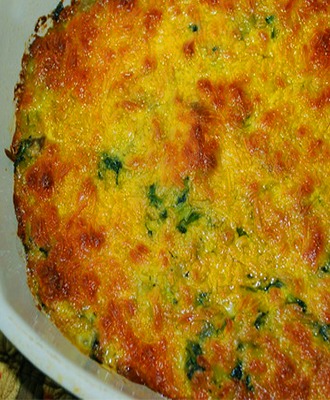 Ingradient
2 tablespoons oil and 1 tablespoon butter
1 medium onion, finely chopped
1 package (10oz) baby bella mushrooms (chopped)
1 package frozen cut-leaf spinach (16 oz) thawed and drained
4 cloves garlic, chopped
½ teaspoon nutmeg
1 can cream of mushroom soup
½ cup chicken broth
2 cups shredded cheddar, plus extra for the topping
3 cups cooked and cooled rice(I used Goya yellow rice, Spanish style, 14oz box)*see note
1 tablespoon Lawrys seasoning salt
1 teaspoon freshly chopped parsley
1 teaspoon freshly chopped thyme
Salt & pepper to taste
Direction
1- Oven to 350.
2- Grease a large casserole dish.
3- In a large pan over medium high heat, sauté the onion in the olive oil and butter until translucent. Add in the mushrooms and cook until softened (about 5 minutes). Add the spinach and garlic and cook for 2 – 3 minutes longer. Add the nutmeg and cook just 1 minute longer. Set aside to cool.
4- In a large bowl stir together the cheese, rice and seasonings. Whisk together the soup and the chicken broth and stir into rice mixture. Add in the spinach/mushroom mixture and gently stir to combine. Season with salt and pepper. Pour into prepared casserole dish and top with extra shredded cheese. Bake for 30 – 40 minutes or until top is golden and bubbly.