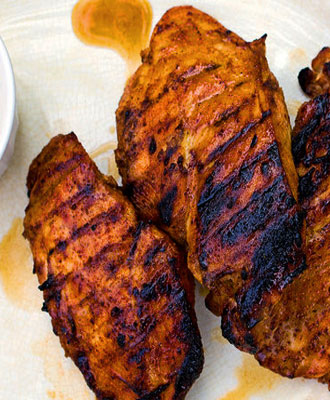 ingredients:
2 Large leg portions (around 700g)
Marinade:
½ Tbsp fresh ginger puree
½ Tbsp fresh garlic puree
4 Tsp Kashmiri Chilli powder *
1-2 tsp Lime juice
½ tsp turmeric powder
Salt to taste
Few teaspoons of water
1-2 Tablespoon of oil
Lemon slices to serve.
1.Wash chicken thoroughly and drain in a colander to remove excess water. Make deep gashes on to fleshy parts of leg and thigh portions of chicken to penetrate the marinade through

2. Mix all ingredients for the marinade with just enough water to make a smooth paste. Rub the marinade thoroughly all over the chicken and deep down the gashes. Sprinkle oil all over the chicken and lightly rub in.

3. Transfer it into a bowl, cover using a cling film or foil and chill it over night or for a minimum of 2 hours.

4. Bring the marinated chicken to room temperature before cooking and Preheat the oven 10 minutes prior to grilling. Place the chicken on foiled tray and grill on medium heat for around 35-40 minutes turning once or twice in between. I Grilled (at 3) one side for 15 minutes, flipped the chicken over and cooked the other side for another 15 minutes and flipped again to cook for some more time. To ensure that chicken is fully cooked, poke the chicken on several parts until you see clear juice oozing through the poked area. If not, cook it for some more time. Make sure you don't over cook your chicken as it can become really dry. Chicken prepared can be baked or even fried in oil. But the results may vary slightly depending on how you do it. Grilling gives it a slight smoky flavour

Squeeze plenty of lime juice while serving if preferred. This can be used as a side dish fo rchappathis, Indian naan breads or rice dishes