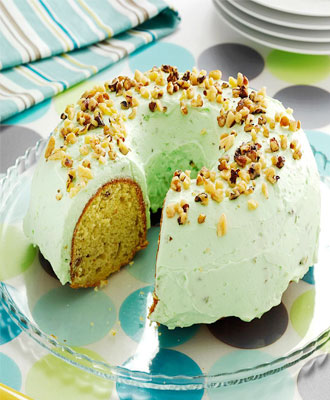 Ingredients
Pistachio Pudding Cake
1 box white cake mix
1 box (3.4 oz) pistachio instant pudding
1 1/4 cup water
1/4 cup oil
4 large eggs
1/2 teaspoon almond extract
Pistachio Cream Cheese Frosting
8 oz. cream cheese
1/2 cup unsalted butter
3 cups confectioners' sugar
1 box (3.4 oz) pistachio instant pudding
1/3 cup milk
1/3 cup chopped pistachios (optional)
Instructions
Pistachio Pudding Cake
Preheat oven to 350 degrees. Grease and flour a 10-inch bundt pan. Combine all ingredients in large mixing bowl. Beat with electric mixer on low speed 1 minute, then on medium speed 2 more minutes.Pour batter into prepared cake pan. Bake 50-55 minutes, until toothpick inserted near center comes out clean. Cool in pan on wire rack 15 minutes. Remove from pan and let cool completely.Pistachio Cream Cheese Frosting
Let cream cheese and butter sit in a large mixing bowl until softened. Beat with an electric mixer until light and fluffy. In another bowl, whisk together the confectioners' sugar and pistachio pudding mix. Gradually add the sugar mixture to the cream cheese mixture. Mix in the milk. Spread frosting over cooled cake and garnish with pistachios.